Lindsay Lohan must decide on plea deal within two weeks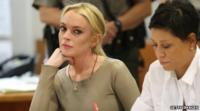 Actress Lindsay Lohan has been given two weeks to decide whether to accept a deal that could see the star sent to jail for a fourth time.
The 24-year-old is accused of stealing a $2,500 (£1,558) necklace from a shop in Venice, Los Angeles, on 22 January.
She pleaded not guilty to the charge at an earlier court hearing.
The former Disney star, who's appeared in films like Freaky Friday, Mean Girls and Ugly Betty, has been jailed and sent to rehab twice in the last year.
If she doesn't accept the plea deal, Lindsay Lohan will have to go back to court next month.
It will be for a preliminary hearing, where a judge will decide if there is enough evidence for her to stand trial or to be sent to jail for breaking probation in another case.
The actress, wearing a shiny brown-grey dress, spoke only once during the hearing telling the judge she understood the schedule for the hearings.
Her film career has stalled since she was arrested twice in 2007 and later charged with drink-driving and drug possession.
A judge had also ordered her to undergo three months of treatment at the Betty Ford rehab centre last October.
While there she's accused of assaulting a rehab worker which prosecutors say remains under investigation.