Lupe Fiasco: Album is 'victory' for fans after protest
October 2010: Nearly 300 Lupe Fiasco fans are protesting outside Atlantic Records' US headquarters in New York.
And there - amongst the buzz of chanting supporters, picket signs and US television camera crews - is the Chicagoan rapper himself.
The demo followed a series of "conflicts and stalemates" between Lupe and his label following 2007's The Cool which contained international hit single Superstar.
It meant the new album release date kept being delayed.
An online petition to force its release, started by a fan earlier in 2010, quickly gathered more than 30,000 signatures and ended up with fans taking to the streets to protest.
Fan protests
Fast forward to now and that album, Lasers, his third, is finally out.
"It felt good," says Lupe, real name Wasalu Muhammad Jaco, from behind a pair of tortoise sunglasses.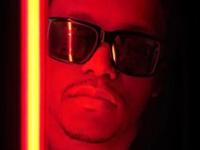 "It was very empowering, humbling and vindicating at the same time because I felt there was so much that they [the label] were doing to me that was disrespectful and unnecessary."
For their part, the label have decided to remain silent.
"The best way to get them back or get my revenge was 250 people chanting 'Lupe Fiasco records' with picket signs and camouflage pants outside their offices," he says.
"That's why I call Lasers the peoples' album - they fought for it and got it."
New 'happiness'
But the people almost didn't get it. Lupe admits there was a fair amount of "personal trauma" during the period.
"Some highlights and lowlights," he begins cautiously. "I'm in a transitory place now.
"I'm happy but my happiness came from completely segregating myself from any expectation and pressure.
"I don't care about the album sales, I don't care about the interviews, I don't care about the photoshoots.
"But that gives me solace because there was so much depression and darkness and stress surrounding this project."
He tried every tonic he could think of to regain his creativity and pacify his frustrations.
"I've done everything," he grins. "I went out and bought a bunch of cars, flew here, threw my phone in the ocean, disappeared to this place."
He also climbed Mount Kilimanjaro and formed a post-punk rock band called Japanese Cartoon.
"I did all of that and it didn't work. What it took was for me to come back to the situation but start thinking about it from a different perspective."
That different perspective is crystallised within Lasers. Dig deeper than the hip hop pop sheen of tracks like The Show Must Go On (which samples Modest Mouse's Float On) and fans will find the lyrics for the album are built on 14-point "utopian" political manifesto. It's provocative stuff.
For the moment though, with the reassuring support of his fans and the promise of more new music soon, Lupe is refreshed about his career.
"This is not going to be me. It's not going to consume me. Fame, success none of this has a bearing on me."