Lily Allen admits she battled eating disorder Bulimia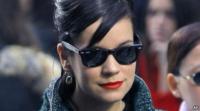 Lily Allen has revealed that she battled with the eating disorder Bulimia, admitting that she used to make herself sick after meals.
The 25-year-old singer said she used the method to control her weight at points during her music career.
She added that it wasn't "something I'm proud of".
Lily Allen's comments came during a pre-recorded documentary series following her move into the fashion industry from music.
'Looked good'
Speaking about a spell where she suffered with Bulimia, Lily Allen said: "A lot of people came up to me telling me how great I looked and I'd be on the cover of every magazine.
"I thought I looked good and it was great to be able to try on clothes and feel a million dollars. But I wasn't happy. I really wasn't.
"I would love to be the skinniest, minniest person in the world but I can't do that without being unhappy. I like food."
After releasing two albums Allen announced she would take a break from music last year.
She launched her fashion range Lucy In Disguise in autumn last year.
In November 2010 she suffered a miscarriage, her second, six months into her pregnancy.
The first episode of Lily Allen: From Riches To Rags airs on Tuesday 15 March on Channel 4.