Kylie Minogue cries as she talks about beating cancer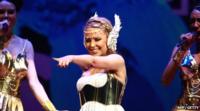 Kylie Minogue has told an Australian TV programme about her "rotten, dark moments" after she was diagnosed with breast cancer in May 2005.
The 42-year-old broke down in tears as she told the Sunday Night programme about how she coped with the disease.
Kylie Minogue celebrated five years of being given the all-clear at the end of February.
She was speaking on the opening night of her Aphrodite tour in Denmark last month.
Asked about her "brave" response to the diagnosis by interviewer and friend Molly Meldrum, she said fans had only seen one side of her reaction.
'Caught off guard'
"I don't think the public really saw," she admitted. "I stayed indoors and it was my family who supported me through really rotten dark moments."
She went on to talk about visiting children who suffered from cancer and began crying as she spoke.
She said: "I remember one moment there where I was talking to some parents across the other side of a bed.
"They caught me off guard and eyeballed me and said, 'How are you? We hope you get through it.'
"The reason that that gets me is that the greatest part of my job and what I do is the humanity of it," she explained after leaving the room to get a tissue.
"There are certain moments where that really cuts through."
The former Neighbours star also talked about her relationship with 32-year-old Spanish model Andres Velencoso.
"If you want to send my personal assistant over the edge, ask her if she thinks I'm going to get married one day," she laughed.
"It might happen. Who knows? Andres is a natural with children."
The Aphrodite tour is in the UK from 25 March with gigs in Cardiff, Glasgow, Manchester, and London.