Israel and Gaza: Life on both sides of the border
The Gaza Strip, on the border of Israel, has been described as the world's largest prison camp.
It's run by the militant group Hamas and is home to 1.5 million Palestinians, with most aged under 30.
Gaza is blockaded by Israel. The UN says this is illegal under international law but Israel rejects that.
Newsbeat has been to the Gaza border to see what life is like for people there.
Last week a 19-year-old, Omar Arafa Ma'arouf, was shot dead by the Israeli army.
'Buffer zone'
His cousin, Ammar Ma'arouf, told Newsbeat Omar had been collecting rubble close to the border.
"Words can not explain, can not express about our feelings.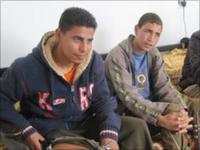 "His father, his mother and his brothers - they are just weeping, all of us weeping," he said.
Many Palestinians, often teenagers, scavenge for rubble in border areas, then sell it for building materials.
Israel says it fires on Palestinians "acting suspiciously" within around 300m (984ft) of the border - it's what's known as a "buffer zone".
Lieutenant Colonel Avital Leibovich from the Israeli Defence Force (IDF) told Newsbeat that's why Omar was shot.
"We are constantly under rocket fire from the Gaza strip. Therefore what one has to do is to defend himself," she said.
"If that means to identify someone walking in the buffer zone which is a forbidden area to be in, in a suspicious manner, we have to protect ourselves," she added.
Palestinians, however, say shots are fired from Israeli watch-towers at people up to 1,000m (3,280ft) from the barrier.
So far two people have been killed and 30 injured in the buffer zone this year, according to the UN.
The IDF says the zone is meant to protect them from Palestinian militant attacks.
ISRAELI SIDE OF BORDER
3,278 rockets and mortars landed in Israel in 2008, 774 in 2009 and 180 in 2010, according to the IDF.
The decrease in attacks follows an Israeli offensive into Gaza in December 2008, with 60 landing in Israel so far this year.
Atara Orenbouch lives in Sderot, an Israeli city near the border.
She said the situation has improved but emergency alarms still go off.
"You don't have to be injured physically, but we're all injured mentally.
"My 5-year-old says, 'I hope there won't be missiles'," she said.
"You have 20 seconds to stop the car and decide which of your children you can take out and into the shelter room, if you're lucky to stop near a shelter room.
"Will I take out my baby? Or my three-year-old? I've got to decide which of my children's lives I'm going to save. That's not normal," she continued.
Israel holds Hamas, the Palestinian militant group which runs Gaza, responsible for the rocket attacks.
LIFE UNDER HAMAS
Since taking control of Gaza, Hamas has promoted Islamic religious law.
"Life here is like a big jail. I have a girlfriend I cannot go out with. I have to meet her in secret," 25-year-old Aman told Newsbeat.
He said it's hard for unmarried men and women to meet in public.
"I just talk to my girlfriend on the phone and sometimes I feel that my phone is watched by the Hamas government."
Israel has enforced a tight blockade on the Gaza border since Hamas took control of the area in 2007.
The UN says the restrictions collectively punish Gaza's people.
Israel says it will only lift the blockade if Hamas recognises Israel's right to exist, renounces violence and releases a captured Israeli soldier.
Osama, a 24-year-old student, said it's hard for young Palestinians to look to the future.
"Not only because of the Israeli blockade, but because of the mental blockade that has occupied Palestinian minds ever since Hamas took over.
"There is zero tolerance," he said.