Jay-Z's NBA team The New Jersey Nets comes to London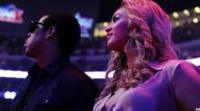 Jay-Z is bigging up the arrival of the NBA in the UK ahead of the first official league games to be played in Europe.
The rapper is co-owner of NBA team The New Jersey Nets.
They take on the Toronto Raptors at the O2 Arena in London's Docklands on Friday and Saturday night (4 and 5 March).
He told Newsbeat: "This whole thing about the NBA going global is fantastic."
They will be the first ever regular season NBA fixtures outside America.
Fast paced game
Jay-Z reckons the NBA willl appeal to a British crowd because of all the melodrama.
He said: "There is momentum and struggle as well as it being a fast paced entertaining game."
The rapper, along with a group of investors, paid $300 million (£184m) for the team back in 2004.
"I hope they win. The Nets are excited about coming to the UK."
The New Jersey Nets are suffering from a six-game losing slump though, and rivals 'The Raptors' have only won four out of their last 24 games.
The NBA wanted to have clubs in Europe for a long time.
In previous years there have been exhibition matches in Britain.
Saturday's game is already a sell-out with officials hoping it will lead to a boost in interest in the sport ahead of the 2012 London Olympics.
Asked if he could get anybody he wanted to perform at half-time, Jay-Z went for a British star.
"Chris [Martin] from Coldplay, my favourtite person in the whole world. I don't think we could afford him though."
Jay-Z also said the rumours about him buying Arsenal football club were "untrue".
He also looked ahead to Glastonbury this year.
"I heard there will be some great people there performing." [Laughs]
His other half Beyonce has already been confirmed as Sunday night's headliner.