Army sniffer dog dies after sniper attack in Afghanistan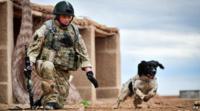 An army sniffer dog has died hours after his handler was shot dead by a Taliban sniper in Afghanistan.
Theo, a springer spaniel, had a seizure after Lance Corporal Liam Tasker was killed by small arms fire while they were on patrol in Helmand province.
The 22-month-old dog holds the record for finding the most weapons and homemade bombs in Afghanistan.
Theo managed to find 14 IEDs (improvised explosive devices) and weapons caches in five months.
L/Cpl Tasker of The Royal Army Veterinary Corps, 1st Military Working Dog Regiment, had praised the dog for his dedication.
"I love my job and working with Theo," he said last month. "He has a great character and never tires.
"He can't wait to get out and do his job and will stop at nothing."
L/Cpl Tasker died from his injuries, while Theo died after returning to Camp Bastion.
The death of 26-year-old L/Cpl Tasker, from Kirkcaldy, Fife, brings the total number of UK military personnel to have died since operations in Afghanistan began in 2001 to 358.
His girlfriend Leah Walters said: "LT never met anyone without touching their lives in some way.
"The amount of support both I and his family have received in the last day alone pays testament to this.
"I am the proudest girlfriend there could ever be and there will be an LT-sized hole in my life forever. Sleep well, my darling, my soulmate, my best friend."
Apart from Theo, five other British military dogs have been killed in action in Iraq and Afghanistan between 2001 and November last year.
The animals were being used either to sniff out explosives or to protect UK troops when they died.