Stars under fire for Gaddafi gigs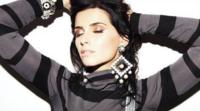 There's increasing pressure on celebrities to return cash paid to them by Libyan leader Colonel Gaddafi's family.
Nelly Furtado has already said she will give money she got for a show in Italy to charity.
But N-Dubz manager Jonathan Shalit isn't convinced stars have been doing the wrong thing.
He says: "It's not for you to judge the political consequences both present and future of who you perform to."
Many of Colonel Gaddafi's sons including Saif, who went to the London School of Economics, and Saadi who used to play football in Italy's Serie A are known for their extravagant lifestyles.
Libyan connection
Nelly Furtado wrote about her Libyan connection on Twitter.
"In 2007, I received 1 million$ from the Gaddafi clan to perform a 45 min. Show for guests at a hotel in Italy I am going to donate the $."
Other stars who have performed for Gaddafi's family have kept quiet.
Beyonce and Usher reportedly performed at a New Year's Eve party for another one of Gaddafi's sons Muatassim, on the Caribbean island of St. Barts.
Mariah Carey is also thought to have sung at a previous New Year's bash.
Their managers have so far declined to comment on the issue.
Take money
But N-Dubz manager Jonathan Shalit told Newsbeat that it is wrong to single out celebrities for what they may have done.
He said: "Governments now seem to be attacking us but it's them who've been supporting these people for years."
He reckons most of the time the artist involved hasn't got a clue about what goes on in their audiences political lives.
"They turn up, they take the money and they go home.
"They don't think too much about the person they are performing for, they don't think too much about it."