Got To Dance winners Chris and Wes 'still on a high'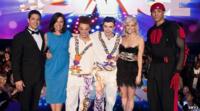 The winners of this year's Sky1 programme Got to Dance say they'll spend the £250,000 prize money on two new cars but will save the rest for the future.
London boys Chris Donnelly and Wes Clack, who met at school, beat seven other contestants in the 90-minute live final with their street dance routine.
The pair were also Cheryl Cole's backing singers on The X Factor and at a Children In Need concert.
The 20-year-olds say they are still trying to get used to the idea of being winners.
________________________________________________________
How are you both feeling after winning the Got To Dance final?
Chris: We're still on a high now. I didn't get too much sleep.
Wes: We had one or two drinks but not too many but got to bed as soon as possible after that experience and all the rehearsals throughout the past weekend.
Chris: It's been a roller coaster. It really has.
How much were you rehearsing?
Wes: When we got through to the semis we were rehearsing pretty much every day and going through everything and getting the idea and the concept and then the soundtrack.
Then we did the semi-finals and got through to the finals. We had three weeks to prepare, so efforts doubled.
He moved in so we could keep talking about it and keep implanting it in our heads. The closer we got to the final the more intense it got, the more we rehearsed.
Which bit was the hardest to choreograph?
Chris: The final piece was the hardest. We made quite a good impact in the semi-final with the whole graffiti section at the beginning. We got quite a good reaction.
So it was trying to come up with a different concept, a different idea, to try and make us stand out again and top that. That was probably the hardest point.
What comments did the judges give you about the final?
Wes: The final, I couldn't believe it. When we stopped, we held that last position and I was out of breath. I nearly fainted.
But there was a standing ovation from the judges and the whole of Olympia. The judges said they loved it.
Adam [Garcia] said we made him howl. Kimberly [Wyatt] was like, 'You should have your own TV show. You're the new Kid 'n Play'.
Ashley [Banjo] just said he'd always be a fan, he really enjoyed it, and, no matter what happened, he was happy the performance went well and we kept it Chris and Wes.
You've won £250,000. Have you split it evenly and how do you intend to spend it?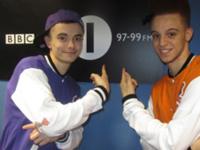 Chris: It's a straight 50/50. The first thing is to buy a new car. I've got a T reg Corsa, so that's going.
Wes: We also said most of it would be saved for future reference. At some point in the future we said we were going to invest in a studio, just for purposes of training.
That way we can just go down there and rehearse whenever we can because we get such random moments where we get ideas. Whether that be silly o'clock in the morning, whatever time in the afternoon or like two am.
It's ridiculous to get an idea then but if you get an idea then and you don't do it, it'll go and you forget it. If we have our own studio, that way we can just run in there and get the idea done.
What is the future of Chris and Wes?
Chris: We're just looking to hit up as much as we can really and do some performances. We still want to teach. We've been teaching for four years now and that's a passion.
And we want to hit up the TV side of things as well. We're not exactly sure what yet or how but Davina McCall said she could see us as the new Ant & Dec. That was a bit of a shock. But we're still letting everything sink in.