Colin Firth wins best actor Oscar for The King's Speech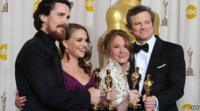 The awards have been handed out but they've been partying through the night in Los Angeles after this year's Oscars ceremony.
Colin Firth won the best actor Oscar for his portrayal of King George VI in the King's Speech with the movie winning four awards in total.
It also won best motion picture, David Seidler won best original screenplay and best director went to Tom Hooper.
A pregnant Natalie Portman picked up the best actress Oscar for Black Swan.
It was a good night for the UK with Christian Bale winning the best supporting actor Oscar for The Fighter.
The Social Network, about the story of Facebook, won for adapted screenplay, film editing and score.
But there was disappointment for British actress Helena Bonham Carter, who lost out in the best supporting actress category to Melissa Leo from The Fighter.
One of the most glittering after parties is Elton John's annual bash.
It's been going for 19 years now and the guests are treated to the best champagne, the finest food and some first-rate entertainment.
Proceeds go to the Aids Foundation.