'Action needed' on forced marriage says abused teenager
The government is defending how it deals with forced marriage with one victim saying there is not enough help.
According to new figures seen by Newsbeat, there were 1,735 incidents of potential or actual cases involving British nationals reported to the forced marriage unit (FMU) in 2010.
More than half of the cases dealt with last year by the government's forced marriage unit were related to Pakistan.
Meanwhile, almost a third involved people under the age of 18.
One 15-year-old victim has told Newsbeat that schools and other agencies are not doing enough to help.
The teenager says she was tricked into going to Pakistan by her dad, but she managed to escape days before her wedding to a man twice her age.
Foreign Office minister Jeremy Brown, the minister in joint charge of the UK's forced marriage unit, says he's "sorry" that the victim feels so badly let down.
But he also defended the actions of the British government.
"We try to do what we can," he said. "I am not aware of any other country in the world that does more than Britain in terms of forced marriage."
Beaten and cut
The 15-year-old victim has been talking about how she risked her life to escape a forced marriage in Pakistan.
She says her father wanted to marry her off to a man 16 years older than her so he could come to live in the UK.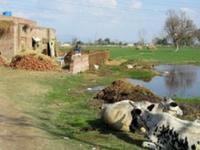 "It was just about the money," she admitted.
"He was literally selling me and he was selling my nationality so I could bring the person back.
"I think it would have been £10,000."
When she refused to marry the man, her father started to beat her.
"He whacked me across the face," she admitted. "Then I started rebelling more, saying, 'No'.
"Then he actually got a glass and scarred my arms.
"He had somebody holding me from behind, one of his servants, and he got a glass and was actually cutting very deep cuts."
Her father then began locking her in her room without food or water for hours on end.
She says she "didn't see any ray of light or hope".
"I thought he might kill me. I just thought I was going to die there in that room."
Schools' duty
After managing to escape and get to the British High Commission in Pakistan, staff placed her in a secret women's refuge.
She was then flown back to the UK and reunited with her mother and is now safe.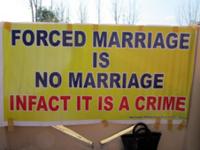 The victim went to a predominantly Asian school but says she was never made aware of any help available to people like her.
Every secondary school in England and Wales is supposed to be sent statutory guidelines, which they should implement.
A member of staff must be put in charge of raising awareness of the issue in schools and looking out for signs of potential forced marriage.
But there are concerns that this isn't happening.
Jasvinder Sanghera, from the forced marriage charity Karma Nirvana, wants the issue put on the school curriculum.
"There should be mandatory awareness of forced marriages in schools," she said.
"We need to ensure that young people are aware there is help available.
"That should be on personal, social, health and economic (PHSE) programmes, through posters in schools.
"We can't even get posters in schools and for me that's unacceptable."
Protection orders
People who are worried about becoming victims of forced marriage can take out a forced marriage protection order in England, Wales and Northern Ireland.
The court injunctions can do a whole range of things, like ban families from taking people abroad for marriage or threatening them.
The maximum penalty for breaking the order is up to two years in jail but there have never been any convictions for this.
Scotland is also considering a similar law.
Jeremy Browne, from the FMU, says he's committed to doing his best to support these powers.
"More can always be done," he admitted.
"We are trying to get out there, we're trying to make a real positive go of it.
"There's nothing that says the Foreign Office has to be doing this. We're doing it because we believe in it.
"We think it's a genuine priority, we want to help people."