Paramore plan to release new music in summer 2011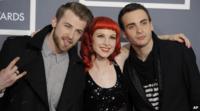 Paramore singer Hayley Williams has said the band plans to release new music in the summer.
Speaking to AOL Music, Williams said the band would start recording after they finish a forthcoming tour of South America.
Any new release would be the band's first since brothers Josh and Zac Farro quit in December 2010.
Williams added that the new record would "definitely have some heavy songs".
She also hinted the band would release an EP before any full length album.
"All the details aren't worked out yet," she said. "But we definitely do want to release In the Mourning and some other ones before we put out a record."
The band will work on the new material with Rob Cavallo, who produced 2009's Brand New Eyes.