3D phone gets mixed reviews at mobile world congress
The world's first 3D mobile phone has been launched at the Mobile World Congress in Barcelona.
You don't need glasses to see three-dimensional images on LG's Optimus 3D smartphone, as it uses similar technology to Nintendo's 3Ds handheld console.
The phone can also shoot photos and videos in 3D.
Critics say it's a gimmick that will make the Optimus 3D more expensive when it goes on sale in the UK this year.
'Not a gimmick'
Jim Michel is the boss of LG in the UK and Ireland.
"There are more 3D films now, more 3D TVs being sold. People understand the experience and they like it.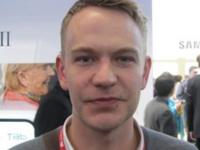 "You don't need any glasses and it's a wonderful experience. It's definitely not a gimmick.
"You can record, capture and share all in 3D. We're going to have three 3D games at launch and more games companies are getting on board with 3D too.
"There are a lot of smartphones around but not a lot of difference between them, so we think having a phone with 3D puts us ahead in the market."
But not everyone is sure it's the way forward for mobiles.
'Fuzzy 3D'
Twenty-seven-year-old Stephen Cutbill, who's been checking it out, doesn't think he'll ever want one.
He said: "I don't see much need for it and you have to have the phone very straight on to see anything.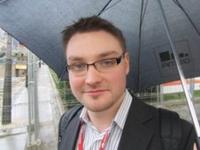 "It's a bit of a gimmick to be honest. I think 3D could catch on more when the need for glasses has been completely obliterated, but I don't think the technology is really there yet."
Rick Sidoli is 30 and isn't blown away either.
"I'm always dubious about these things," he said. "Will you get annoyed with looking at a 3D screen all the time?
"It seems like icing sugar on top of a cake and the actual cake isn't that good.
"It looks good but if Apple turned up with one iPhone 5, even if it wasn't in 3D, that whole stand would have emptied in two seconds.
"It's still fuzzy 3D at the moment and they've got to improve it, but give it 18 months and everyone will have a 3D phone."