Guitar Hero video game series is axed by Activision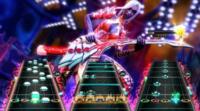 The popular music video game Guitar Hero is being axed by the company that publishes it after nearly six years.
Activision Blizzard, which makes the Call of Duty and World of Warcraft series, says it's ditching the franchise because "the popularity of music-themed video games has faded".
The company is also cutting 500 people from its global workforce of 7,000.
Activision Blizzard has revealed that other games it's cutting will include DJ Hero and True Crime.
The company says music games are expensive to manufacture, between the licensing fees for the songs and the cost of making the hardware such as plastic guitars and microphones.
It will, however, continue to sell and support its catalogue of Guitar Hero titles.
Activision Publishing Chief Executive Eric Hirshberg said: "We simply cannot make these games profitable based on current economics."
Fourteen different versions of Guitar Hero have been released since its launch in 2005 including Guitar Hero World Tour and Guitar Hero: Warriors of Rock with celebrity specials from Aerosmith, Metallica and Van Halen.
The company says a new digital platform called Beachhead will now focus on the money-making Call of Duty franchise.
Since its launch in November, Call of Duty: Black Ops has smashed retail records and pulled in more $1 billion (£621.9m) in sales worldwide.
Last year, Viacom sold the unit behind the Rock Band video games because it was also losing money.