Rihanna angry as S&M song is given new title
8 February 2011

From the section

Music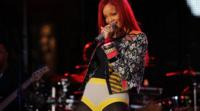 Rihanna has told fans on Twitter she's angry her new single has had its title changed from S&M to Come On.
On Sunday night's official chart on Radio 1, host Reggie Yates introduced the number 20 track as Come On.
A fan tweeted to ask the star about the new title, and she responded: "Are you ... kidding me???" I'm on it!"
A Radio 1 spokesperson said the radio edit was called Come On, and was played during daytime hours due to the "strong nature of the content" in the original.
'Common practice'
But 22-year-old Rihanna's anger continued when another fan got in touch to ask "u okay with this Come On situation?"
Rihanna responded "Absolutely NOT!!!"
There has been no comment from her label yet.
"We will continue to play the original track in specialist shows with an appropriate introduction," the Radio 1 spokesperson told Newsbeat.
"It is common practice to play radio edits of certain tracks in daytime," he added.