Blur's Alex James guarded on new studio recording
8 February 2011

From the section

Music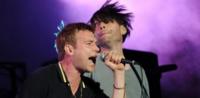 Blur's Alex James has remained guarded on whether the reconvened band have been in the recording studio.
Last week guitarist Graham Cox tweeted that he was off to meet the band and "maybe switch a tape recorder on."
Speaking to Newsbeat James said: "Musician makes record, that's not news, but musician makes cheese and puts on festival that's news.
"Nothing to report from Blur, we're mates and we always will be. We'll always get together now and again."
'Posh' festival
The bassist also recently announced that he's putting on a festival, called Harvest, at his farm in Kingham, Oxfordshire in September.
Asked if that'd leave him without time to record or play live with Blur this summer he said: "There's always time to do everything but this is what I'm thinking about for the moment. It's very exciting.
"Would Blur play? You should ask them. One day. Who knows? Could be good," he added.
Speaking about the event which will feature performances from KT Tunstall among other artists, he said it would be like "Glastonbury with Michelin stars".
"I'm fed up of going to music festivals and eating rubbish food," said James.
"I'd like to think it would go on and run and run. It seems like a brilliant idea. The farm has grown and this seems to be the next natural step."
In 2009 the four original members of Blur reconvened to play a string of gigs including an emotional headline performance at Glastonbury.