Take That's Gary Barlow gives tips to young songwriters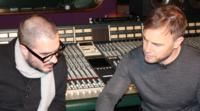 Gary Barlow is giving a group of aspiring young songwriters tips as part of the BBC Introducing's Musicians Masterclass event in London.
A pre-recorded film interview at the Take That man's studio is being shown during sessions at Abbey Road studios today.
He stressed the importance of keeping songwriting fresh by changing scenery.
"One of my best tricks is that every now and again I go and see my mum for a few days," he said.
Watch the BBC's Music Introducing musicians' masterclass
'Biggest barrier'
Gary Barlow, who was speaking to Radio 1's Zane Lowe, is one of the established musicians giving advice.
The aim of the event, which will also see talks from Kaiser Chiefs and Tinchy Stryder, is to connect "under the radar musicians" with music industry professionals.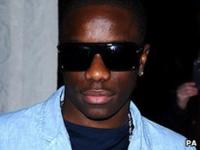 "To me the biggest barrier or the biggest hurdle we've all got to get over as writers is keeping things fresh," Gary Barlow said.
"I leave, at my mum's house, a midi-keyboard and a set of speakers. I arrive there and set it up in front of a window overlooking a field and I'm in a different situation.
"Go on holiday somewhere and take your stuff with you," the 40-year-old urged. "It works."
In the interview he talked about reuniting with Robbie Williams and the way that changed the band's songwriting dynamic.
"I'm sat there thinking, 'OK, I'm a writer, Mark's a writer, Robbie's a writer'.
"Now, listen, on a three-minute single how much of each individual do you go down that way?
"So I had a plan, I thought I'm going to become like one of these hip-hop producers and I'm going to make backing tracks."
Tinchy Stryder joins Masterclass
Lyrics challenge
He admitted that during the early years of Take That songwriting had sometimes been a challenge.
"I could say that throughout the nineties I didn't have any views," he said.
"I always felt that lyrics were a weak point for me and I was often a copier of lyrics.
"I would use other people's emotions; I'd listen to conversations and talk to friends and stole my lyrics from around me.
"I very seldom ever looked inside myself to write lyrics. That's something I've acquired.
"I've got a full-length keyboard these days as then I was working to guidelines and we were working to accompany our image. It was more of package then. A package that was being sold.
"This time round it feels a little bit more bespoke.
"I was working for people, I don't any more. When I say something is good now, or when our band says something is good - it's good."
Reuniting after 15 years, the original five members of Take That released Progress last year.
It turned out to be the biggest selling album of 2010 in the UK.