Blue defend Eurovision decision
31 January 2011

From the section

Music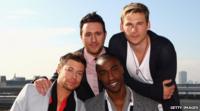 Boy band Blue have defended their decision to represent the UK at this year's Eurovision song contest.
Their comments came after the group's ex-manager Daniel Glatman described their choice as "reckless insanity".
"There's been a lot of negativity but all we ask is, please hold off until you hear the song," singer Duncan James said.
The reunited group will represent the UK in the finals in Germany this May.
The four-piece, who made their name with hits like Rise and One Love, said they had been invited to be the UK's entry by the BBC six weeks ago.
But some have criticised their decision to take part in a contest that often features novelty acts.
'Best springboard'
Ex manager Glatman said: "They will have to win. Anything less and their reputation would be in tatters."
But Blue's Simon Webbe defended the band's decision:
"Everyone is entitled to their own opinion. Obviously we don't agree with him (Glatman).
"We believe this is going to be the best springboard for us to come back on.
"Who are we to actually think we can just waltz back in with a song and expect everyone to like it?
"At least this way we can reach 125 million people across Europe and represent our country whilst doing so. There is no other platform like it," he said.
The band rate their also said they rate their chances of doing well in the competition because of their ability to sing live.
"We've always been strong enough to hold our own when it comes to vocals," said Webbe.
"There's this whole thing about boy bands, saying 'they can't sing'. Take That came back and proved everybody wrong and we hope we can do the same."
'Very anthemic'
Webbe added that I Can, the song written for Eurovision by members Duncan James and Lee Ryan, had a "massive sound".
"It's very anthemic. It's very positive.
"It was a no-brainer for us. This song for us we feel is Blue - this would have been our first single whether it was for Eurovision or not."
James added: "We believe it's one of the best songs to enter Eurovision in a long time."
The group formed in 2000 and since then have sold more than 13 million records, winning two Brit Awards and racking up three UK number one singles.
The Eurovision Song Competition will take place on 14 May and be broadcast live on BBC One, with commentary by Graham Norton.