Sony unveils NGP - successor to PSP handheld console
Sony has unveiled its new handheld games console the PSP 2.
At a special event in Tokyo, company bosses revealed what they are officially calling the NGP or Next Generation Portable.
There were no details on how much it is likely to cost but it is expected to be out sometime towards the end of 2011.
The NGP is being launched into an increasingly competitive market with Nintendo's 3DS out soon and a boom in mobile gaming on smartphones.
Dual analogue sticks
The device boasts a 5-inch OLED touch screen screen as well as Wi-Fi and 3G connectivity to enable people to download games and other content.
The oval design (182.0 x 18.6 x 83.5mm) also features a rear panel touchpad to control certain actions and a motion sensor.
There is a front and rear camera too plus the traditional navigation buttons and, for the first time, dual analogue sticks.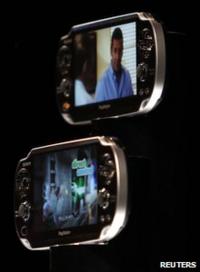 Executives at Sony hope the new features will be good enough to win over gamers.
Its predecessor, the PSP, was launched in 2004 and to date has sold 65 million units.
But that is less than half the number of sales of Nintendo's DS (136 million).
Nintendo are also launching the world's first 3D handheld games console in March, the 3DS.
The 3DS has generated a huge amount of hype, partly because users don't need special glasses for the 3D content to work.
Meanwhile smartphones are also fuelling a boom in mobile gaming leaving some experts wondering whether specific handheld games consoles are becoming redundant.
PlayStation phone
A popular title like Angry Birds costs a fraction of the price of console games to develop and is also cheaper for customers to buy.
Yet with around 40 million downloads it has raked in millions of pounds for developers Rovio.
However, Sony is more than aware of the potential of mobile gaming.
The heavily rumoured PlayStation phone is expected to be unveiled at next month's Mobile World Congress in Barcelona.
It also announced its new PlayStation Suite application for Google Android phones at the Tokyo conference.
Out later this year, that will let users run video games with the same quality of the original PlayStation and be compatible with the NGP.