Loick Essien sets his sights on 2011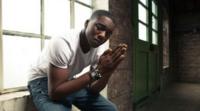 Loick Essien has said he hopes to "touch people with my music" when his debut album Identity is released this year.
The 20-year-old, from Fulham, London has high hopes for his first effort.
He also confirmed he's working with Norwegian production team Stargate who've made tracks for Beyonce, Chris Brown and Rihanna in the past.
"I feel privileged to work with them and be part of their catalogue."
Career 'growth'
Speaking to BBC 1Xtra news ahead of the release of new single Stuttering, featuring Dappy from N-Dubz, he said he wasn't worried if fame didn't arrive straight away.
"To have Dappy on the single - it's just a beautiful thing."
He released debut single Love Drunk, produced by Labrinth, in 2010 and has been signed to Sony records for two years.
"It's definitely a long-term deal that I've got with them," he said.
"It's just a matter of growth. Every artist will sound better on their second, third, fourth, fifth album.
"They're going to grow with me and we're going to make some magical music.
"I haven't set any goals - it's just the sky is the limit. Any kind of progression is achievement."
Essien - who used to be a model and actor - says he's inspired by Usher, Justin Timberlake, Jasmine Sullivan, Kanye West and Jay-Z.
He also said he wanted to work with Kanye West, B.o.B, Tinie Tempah and UK boy band The Wanted.
"I really like The Wanted - I'm really feeling what The Wanted are doing. I think they're really good, really talented," he said.
Stuttering is released on 6 February