Nicki Minaj describes Kanye West as a 'creative genius'
25 January 2011

From the section

Music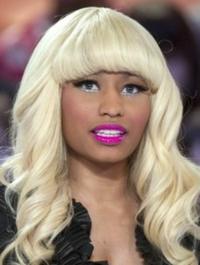 Nicki Minaj has described collaborator Kanye West as an "intellectual" and a "creative genius".
Speaking to BBC Radio 1's Zane Lowe she said: "He's just amazing.
"He analyses everything in a very weird way so when you talk to him you always get a different perspective. It's never the normal perspective on any topic [you talk to him about]."
The pair collaborated on a track called Monster included on West's most recent album.
'Monster' record
"He opened crazy door putting me on the Monster record," she said.
"I didn't know Jay-Z was going to be on it. A new girl female rapper and I'm on a track with these two heavyweights. It's the best feeling in the world."
Minaj, whose real name is Onika Maraj, was speaking as she made a brief trip to the UK to promote her album Pink Friday.
Signed to Lil Wayne's label, it has been announced that the 26-year-old will tour with Wayne and Rick Ross throughout the US beginning in March.