Apple app store reaches 10 billion downloads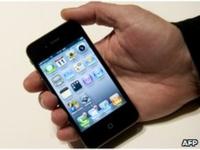 The 10 billionth download has been made from Apple's app store, the company has announced.
The world's largest technology firm reached the milestone on Saturday night (22 January).
The downloaded game was a free app called Paper Glider, developed by British company Neon Play, where users control a paper aeroplane.
Of all the millions of Apple users from around the world, it was downloaded by Gail Davis from Orpington in Kent.
She told the BBC: "I have to confess it wasn't actually my download, it was my daughter's.
"I had no idea, when Apple called me. I thought it was a prank call and I declined to take it."
But after speaking to her daughters she found out they'd downloaded the game and realised she'd made a mistake.
"I had a moment of blind panic but thankfully Apple called me back.
"They said it's not a joke and you are the winner."
As the app store account holder Gail is being given an iTunes gift card worth more than £6,200 ($10,000).
Growing Competition
It's taken just two and a half years for the app store to reach 10 billion downloads.
Apple says seven billion of those have come in the last 12 months.
There are 350,000 apps available to more 160 million iPhone, iPod touch and iPad users in 90 countries around the world.
But Apple is facing growing competition.
In the mobile phone market Google's Android and RIM's (the makers of Blackberry) operating systems have a greater share than Apple's.
The company's iPad is also facing a much tougher market than when it launched last year.
At the recent Consumer Electronics Show in Las Vegas around 80 new tablet PCs were unveiled.