Liver disease 'hits younger drinkers'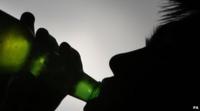 The number of young drinkers ending up in hospital with a serious liver problem has risen by more than 50% in the last decade, NHS figures show.
351 people aged 30 and under were admitted to an English hospital with alcohol related liver disease in 2009/10, up from 230 in 2000/01.
Dr Jonathan Mitchell, a specialist, said people who work with alcohol saw the stats as "a gross underestimate".
He said the problem was worse than the figures suggested.
Nineteen-year-old Rich from Selby in Yorkshire was sent to hospital after ignoring medical advice to cut down on his drinking.
BBC Headroom: See how alcohol affects the body
'Could barely walk'
"I was going out four or five times a week. Most nights I would be getting in in the kind of state where I could barely walk," he said.
He started waking up with painful stomach cramps and suffered a serious loss of appetite.
"I just ignored it and thought it would go away because I'm like that," he added.
"Then it got to the point where I noticed bruises all around my stomach."
The crunch came after a big weekend at Leeds festival.
"After that the pains were five times worse.
"I went to hospital for tests on my liver and it was at this point I realised I am not bigger than this, I am going to have to drastically change what I do."
Rich still drinks but says he has cut down the number of times he goes out and the overall amount of alcohol he buys each week.
'Generational shift'
The liver is the organ under the ribs on the right hand side of the body that cleans harmful substances from the blood.
For people who drink heavily it can turn fatty and become inflamed.
That can lead to scarring or "cirrhosis" which in extreme cases ends in liver failure.
The disease is common in heavy drinkers in their 50s and 60s.
But doctors have told Newsbeat they are seeing a "generational shift" in the kind of people turning up in their wards.
Overall the number of young patients is still small, in the hundreds rather than the thousands.
But it's been rising sharply over the last 15 years as alcohol consumption has increased.
Dr Nick Sheron, a liver specialist at Southampton General, said: "17 years ago, I remember seeing a lad about 23 years old with alcoholic liver disease and he was the first patient I had seen at that age.
"Now it is not at all unusual to see people in their 20s in our unit.
"We get four or five every year and the youngest death we have seen was someone who was 26. It's a big, big difference."
He said around a third of his patients are chronic alcoholics with a serious addiction to drink.
But another third are "heavy social drinkers" who are going out every night and have no idea they are drinking too much.
The rest are somewhere in-between those two extremes.
The 'silent killer'
Emma (not her real name) developed serious health problems in her mid 20s, after years of going out with friends.
"I was mixing cocaine with alcohol which meant I was drinking more each night and over a longer period of time," she told Newsbeat.
"At its worst I couldn't function. I just didn't know what was wrong with me."
She went into hospital with a swollen stomach and and was diagnosed with advanced liver disease.
"I was told to never drink again. My doctor said if I didn't change my life, I would be dead in three months."
For patients like Emma, serious liver disease can be virtually without symptoms until it reaches that critical stage.
Dr Mitchell said: "I've seen people come in who are bright yellow or jaundiced and bleeding from their stomachs.
"Many will turn round and say they had no idea they were drinking to that extent because your liver just doesn't give you a warning."
He also explained why he believes the issue may be worse than the numbers suggest.
"The way we collect these figures has its problems. So if you come in with a broken leg and you have an abnormal liver test, it might not be recorded," he said.
"Everyone who works with alcohol, when we see these statistics we realise they are a gross underestimate."