Playboy iPad app 'to show nudity', Hugh Hefner claims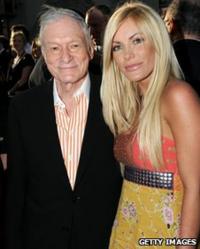 Playboy founder Hugh Hefner has claimed a new iPad app due in March will feature uncensored porn pictures.
The adult magazine mogul tweeted to say that a new version of the app would include the whole magazine, "from the first issue to the last".
Playboy's current app features no naked photos, in line with Apple's strict no nudity policy.
Apple have been contacted by Newsbeat for a response but has yet to comment on the claims.
On Tuesday night (18 January) 84-year-old Hefner tweeted: "Big news! Playboy - both old & new - will be available on iPad beginning in March."
Answering fans' questions he added: "All the back issues of Playboy will be available on iPad and current issues as well - Playboy on iPad will be uncensored."
However, Apple has traditionally blocked any attempts to bring porn to its devices.
In April 2010, founder Steve Jobs wrote to a customer who complained about the company's stance, saying it was Apple's "moral responsibility" to keep porn off the iPhone.
"If you want porn, get an Android," he said, referring to the operating system used on rival smartphones.
Nudity is not banned on devices which use Android.