Jay Sean says Brits 'out of date' after no nominations
14 January 2011

From the section

Music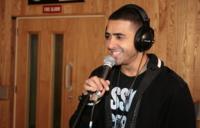 Jay Sean has called the Brits "out of date" after again failing to be nominated for the awards.
Organisers say he wasn't eligible for this year's honours.
The singer, who was the first UK urban artist to go to number one in the US in 2009, says he also hates the politics involved in the music industry.
He said: "This is the problem I have with award shows. It's politics, which is why I've always said that they're late and they'll always be late.
"I've sold more records than everybody on the list."
Jay Sean, who's signed to Lil Wayne's record label, sold more than five million copies of his single Down in America in 2009 and shifted another million copies of follow-up track Do You Remember.
But despite his success in America, Jay Sean has never been nominated for a Brit award, something he says doesn't bother him too much.
"It's about who's cool and who's the trendy artist," he said. "I don't get caught up in it.
"I don't need awards to show me how successful I am or to prove to me that I'm doing a good thing and that I'm succeeding.
"I never did music for awards. I did music because I love it and I do music because I love singing and I love entertaining."
Cool dude
Despite being overlooked himself, Jay Sean said he was happy that Tinie Tempah had been nominated for four Brits.
"You know why I'm most happy for him? It's because he's actually just a really cool dude.
"I believe that if you're a good person and you put good energy out there, you deserve all the things that are coming to you and Tinie's one of those guys."
Brits organisers say Jay Sean was not eligible this year as his album only reached number 62 in the chart.
He no longer qualifies for the breakthrough categories as he has had numerous top 30 hits dating back to 2003.
In addition, while the singer had major US success last year, he didn't have enough sales or radio plays in Britain in 2010.
The Brit Awards are about success in Britain in the past year.
Mature record
Jay Sean has released three albums with another one on the way next month.
He says it'll be a more mature record than 2009's All Or Nothing and could feature collaborations with label mates Drake, Nicki Minaj and Lil Wayne.
"This album for me is an album that I really wanted to make but I had to grow into.
"It was an album that I had to mature into as an artist, as a songwriter, as a singer and as a vocalist.
"This album is a pop/R&B album but it borrows influences from different genres like dance, pop, hip hop and R&B."