Haiti earthquake orphans hope for better future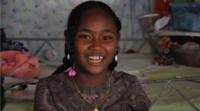 Fourteen-year-old Emmanuella pushes back her long black plaits. She smiles broadly showing off her white teeth and tugs the bottom of my T-shirt.
She then grabs her classmate's hand and skips off to play football with the boys.
For her, life is good.
She has a roof over her head and is given three nutritious meals a day. But it wasn't always like this.
Her parents handed her in to a Christian school in Haiti's capital Port-au-Prince after they could no longer afford to keep her.
But sleep isn't always restful for Emmanuella. She still lies awake thinking about the day her world came crashing down - literally.
"When we hear something we think it's the earthquake and we go outside.
"Every time they open the door it makes a lot of noise, we run outside," she said.
More than 30 children live at this orphanage.
They're taught English and stay in concrete rooms with nothing but bunk beds.
The building remains partly destroyed. Like many here it's had no repairs since the earthquake a year ago.
Eighty per cent of the schools in the capital were crushed in the disaster.
Missing parents
Charity Save the Children says more than 400,000 kids in Haiti live in poverty in camp cities.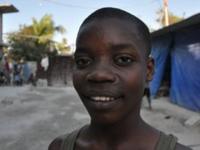 It means they're at risk of being kidnapped, sexually abused, and exploited.
They're also more vulnerable to catching diseases like cholera, which has seen an outbreak here in recent months.
Around 5,000 kids in the country were also separated from their parents or guardians in the disaster, according to the UN Organisation for the Coordination of Humanitarian Affairs (OCHA).
Kevin, aged 14, prays for Haiti to see better days.
He lost his dad in the quake and now lives at the school: "I will like Haiti to be changed. We need help. I don't like where it's at.
"There are too many problems that don't please God," he said.
'Too weak to stand'
Sherrie Fausey is from Jacksonville in Florida and is the headmistress at the orphanage.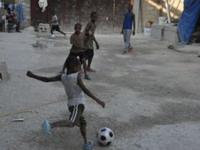 She gave up her life in America and moved to Haiti to help the children.
"Four of the children were too weak to stand up," she said.
"A couple of them almost died of starvation. And within a couple of weeks they just got stronger."
The children sit in an upstairs classroom and listen attentively to an American volunteer read One Hundred and One Dalmatians.
The United Nations says 40% of the Haitian population is under 14 years old.
It's not clear how these kids will all survive with poverty and corruption dominating everyday life.
People here say it's up to the government to show them a better way forward.
But Kevin has some big dreams and is adamant he'll fulfil them.
He told me: "I want to learn what I want to learn, and see what I can do for Haiti. I would like to be president one day."