Police call anti-snitching campaign 'irresponsible'
13 January 2011

From the section

Politics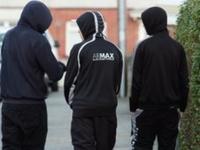 People living on an estate in south London where a 17-year-old was shot dead have been sent flyers warning them not to talk to the police.
The leaflets posted through letterboxes are linked to a website called Stop Snitching.
Police in London say the campaign is "disappointing and irresponsible".
Last year controversial new powers designed to protect witnesses in gang-related murders came into force in England, Wales and Northern Ireland.
Investigative anonymity orders now allow police to keep the identity of a witness secret from the start of a murder investigation.
Ministers say they want to give gang members the opportunity to speak out without the risk of intimidation.
But critics say the law is badly designed and sends the wrong message.
They claim it gives the impression that speaking to the police is deceitful and could even put young lives in danger.
Protection 'extended'
Witnesses in serious murder cases can already be granted anonymity at trial using screens or voice distortion.
Under the law, that kind of protection will be extended to the early stages of a police investigation involving guns or knives before the case gets to court.
It makes it a criminal offence to reveal the identity of a specific witness to a newspaper or a local member of the community.
Ministers expect police to make around 800 applications a year to use the powers.
But the charity Witness Confident, which supports witnesses to violent crime, says the measures could encourage reprisals as suspects try to find out who is talking to the authorities.
"The government is making a mistake if it thinks the solution to tackling crime and gangs is anonymity," said the charity's director Guy Dehn.
"We are worried the police will assume these new laws are a magic bullet.
"If the bad guy thinks someone has stitched him up then he is going to want to work out who it is and to do something about it. This is not the path to a solution."
Instead Witness Confident wants the government to make it much easier and quicker to testify in open court and for police to work harder to convince young people to come forward without the need for anonymity.
Gun crime
Last year's figures show 13 young people every week are sent to hospital in the UK after being injured by a firearm.
A&E services in England, Wales, Scotland and Northern Ireland dealt with 679 gunshot wounds in people under the age of 25 in the 12 months to October 2009.
Detectives say that in many of these cases, the culture of not "snitching" or cooperating with the police leaves the crime unsolved.
Officers in London claim 40% of witnesses and victims to a shooting in the capital are "wholly uncooperative".
"A snitch is a collaborator and I refuse to do a job for the police," said 21-year-old Freddy from north-west London.
"I've seen a few things around here but why should I help the police?
"I believe there's no such thing as a victim and if they get stabbed or murdered it's because they've done something to deserve it."
Snitching culture
Representatives from another charity, Victim Support, estimate that 80% of the teenagers they speak to at events designed to reduce knife and gun crime say talking to the police is the "last thing they would do".
Many are worried about the possibly of retribution if they speak to the authorities.
"At the end of the day if you get someone into trouble you're bound to get into trouble yourself or someone you know into trouble," said Ali, 18, from Birmingham.
"Even if my family has been murdered that is a personal issue and the police aren't the best people to deal with that."
Senior police officers call attitudes like that outdated.
"Some of these fears are based on a stereotypical view of the police. I would challenge that," said assistant chief constable Gareth Cann of West Midlands Police.
"The last thing I want is to have a witness bullied out of it by some criminal.
"Decisions around anonymity are not taken lightly and these new measures are extremely useful."
Ministers describes anonymous evidence as an "effective tool" to tackle witness intimidation in some inner-city communities.
"The government is committed to ensuring vulnerable witnesses are able to give evidence without fear of reprisal, particularly for gang and gun crime," a spokesman for the Ministry of Justice said.