Drake works on new album with Florence and The xx
13 January 2011

From the section

Music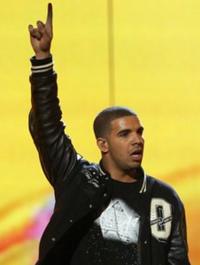 Rap star Drake has told Radio 1 he's been in the studio with UK acts Florence and the Machine and Jamie from The xx.
Drake, who raps in Rihanna's number one single What's My Name, said he is a huge fan of Florence and the two have been partying together in London.
"Me and Flo met the night after the VMAs, she came to the studio and we just clicked right away," he revealed.
The rapper plays the final show of his UK tour in Birmingham on 14 January.
The man labelled "the future of hip hop" by Jay-Z told Radio 1's Nick Grimshaw all about his time in London, starting with his night out with Florence.
'Joyous occasion'
"Last night we went to dinner at the Wolseley and we were all very loud and obnoxious in there," he said.
"We were all just wasted. It was this weird hippie joyous occasion [in the studio].
"But on any other evening me and Florence can get in the studio and do something incredible and we will.
"We listened to all her new music and I picked which song I really want to get on," he added.
And the 24-year-old, who used to be an actor, also revealed is working with Mercury Prize winners The xx.
"The praises I'll sing most is definitely The xx and Jamie, and we're working on Take Care [Drake's second album] together. Jamie is probably one of the most exciting producers I've ever heard," he said.
'Softer side'
But the rapper also showed his softer side, admitting to Nick that he'd spent "an obscene amount of money" on first editions of Winnie the Pooh and Charlotte's Web books.
"They were a huge part of my childhood," he said.
And Drake, who said he's a big football fan, even found time to watch Chelsea beat Ipswich 7-0 at Stamford Bridge.
"I've had a great time in the UK. I love London with all my heart and I'm definitely coming back here to work on my album," he added.
Drake's UK tour ends with a sold out show in Birmingham on 14 January.