Rihanna and Katy Perry anger at Twitter anorexia 'hoax'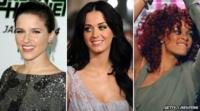 Rihanna and Katy Perry are among the global stars tweeting their anger over what now looks like a hoax by an ex-Big Brother contestant.
Kenneth Tong, who was on the Channel 4 show in 2009, has faced international criticism for his Twitter campaign promoting "managed anorexia".
Among other posts, he wrote "to be skinny is to be perfect and to be fat is unacceptable".
But now he claims the whole thing was done "to catch people's attention".
Posting as @MrKennethTong, Tong tweeted things like: "Don't let the fat masses oppress you from your goals. You deserve a skinny body."
"Love yourself"
But pop megastar Rihanna responded, saying: "Girls are dying all over the world because of ignorant individuals like this!"
She then added: "Young ladies, love yourself! Your skin, your booty, your hair... You're all beautiful! Keep your hearts pure! Love and laugh, and live life."
Katy Perry re-tweeted these words, adding: "Preach!"
The Saturdays' Rochelle Wiseman wrote: "Your tweets are upsetting a lot of people, including myself! It's very vile! Twitter isn't meant for people like you!!"
Tong, who calls himself a Hong Kong "playboy", had said he would soon be launching a slimming pill to help people achieve 'size zero'.
His stream of tweets since 1 January was criticised heavily - not just by celebrities, but by eating disorder groups and others.
'Marketing case study'
Now he has told Newsbeat the whole thing was a publicity stunt.
"It was a vile message that caught their attention. I wanted to go from nobody knowing my name to everybody in the world talking about me, to prove a point that Twitter is a really powerful thing," he said.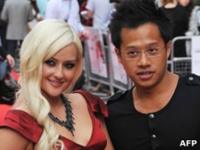 "I look at it as a marketing case study and it shows just how somebody with no budget typing on a computer got everybody talking about something, albeit illogical."
He also posted an online apology, saying: "To all the people I have offended as part of this scientific experiment, I would like to apologize to you.
"To show my sincerity I will making a sizeable donation to beat: the leading UK charity for people with eating disorders and their families," he added.