Haiti earthquake one year on: 'We are living a war'
Walking through the streets of Port-au-Prince you can't escape the stench of human waste.
The smell matches the grim vision, which is one of utter chaos and destruction. It's difficult to digest.
Colourful buildings that once stood majestically in the Caribbean country are still piles of rubble a year on from the earthquake which killed more than 230,000 people.
Stacks of rubbish - plastic bottles, cigarettes, even puddles of urine - line the roads which meander through the capital.
It's a bleak picture and leaves you wondering if there's been any progress since the disaster.
See more of our photos of Haiti one year on
More than one and a half million people became homeless and now many of them live in tents or homemade shelters the size of a garden shed.
It's a nightmare come true for the Haitian people: one day you have a house, a family, belongings. The next, nothing.
The recent cholera outbreak, then a tornado, and in November the disputed presidential elections which are accused of being fraudulent, all add to the list of problems facing the poorest country in the Americas.
'I see no future'
Louis Richard is 24 years old.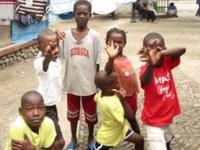 He used to live in the mountains but is now one of many who camps out in Champ De Mars. That's the central shanty town here, though there are more than a thousand similar camps across Haiti.
"After the earthquake, my house was gone," he says. "Before I used to live the good life but now I'm living in hell.
"I feel everyday when I wake up in the stinks, it's just like I see no future."
According to the International Organization for Migration, more than 800,000 people live in camps in Haiti.
The figure has dropped by almost half since last July but Louis told us he doesn't believe things are getting better.
He says he's concerned about his baby daughter.
"I'm 24 years old and I'm living kinda bad like this, what about the future generation?
"Tomorrow is bad for me to see. I don't think I'm going to see a better life for the children that are coming next after me."
'Hustler'
Like all those living rough on the streets, Louis has to make ends meet and has to support his girlfriend and child.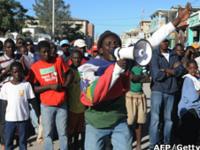 He sells beer and soft drinks, and describes himself as a hustler. His passion is rap and R&B music. His idol is Lil Wayne.
He explains: "Music is a distraction for everybody. When you listen to some music everything looks and tastes better."
Haiti has never been a rich country. It has a history of bloodshed and poverty.
But the earthquake made things worse - destroying the little that people had.
Many here want a new government and are furious with the current president, Rene Preval, who they accuse of doing nothing to help the poor.
But few truly believe that a new leader would make a difference in what is one of the world's most corrupt countries.
"In Haiti, only the strong survive," says Louis. "We are living in a war. Only the strong survive."