Beastie Boys reveal comeback after Adam Yauch's illness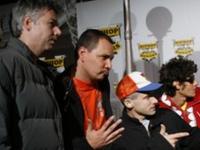 Beastie Boys rapper Mike D says the band will stick to their album release schedule following the illness of bandmate Adam Yauch.
The group will release the second part of new double album Hot Sauce Committee in spring 2011 as originally planned.
The release of the first part, still incomplete following Yauch's recent battle with cancer, will follow at a later point.
It is still unclear whether the group will tour in 2011.
Album plans
Speaking to Radio 1's Zane Lowe, Mike D said: "It's still delayed - the first one. The second one is coming out as originally scheduled."
He added that Yauch's all-clear following his illness was "a good thing" and that "we're really happy about it".
With regards to touring Hot Sauce Committee II, he said the band was "open" to that suggestion.
"We're still going to have to see how he's [Yauch] doing."
In terms of the New York rap collective's immediate plans he added: "We've got a video we got to finish, a big video. I know people don't make big videos any more but we made a big video.
"It's not even a video, it's a film-eo. A cinematic, short film. "