Paramore singer Hayley Williams 'hurt' over split
5 January 2011

From the section

Music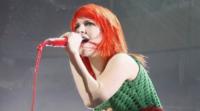 Paramore singer Hayley Williams has said she feels "hurt" by the reasons her bandmates gave for quitting the band.
"You can't be mad at someone for not feeling something, but when it really became about all these other things then I just kinda felt led on," she told MTV USA.
Guitarist Josh Farro left Paramore with drummer brother Zac in December.
He later claimed the band had become "a manufactured product".
In a blog post to fans shortly after the split, Farro said that Paramore was "pretending to be a band that started naturally."
He also claimed Williams had originally been signed to their label, Atlantic, as a solo artist.
'Loved every second'
"We didn't understand why Hayley was the only one signing the contract since we were told this was a 'band', but we were too young to grasp all of this," Farro posted.
But Williams said all of the original members of Paramore had enjoyed their success.
"We've been doing this for 6 or 7 years now. I don't think any of this has been in vain for any of us," she said.
"We've loved every second we've spent on stage, all the meet and greets, the things we've got to do with our fans.
"That's the stuff that we've built and I don't think anyone should discredit it," she added.
Earlier this month the Tennessee rock band hired a temporary new guitarist and drummer for their upcoming tour of South America.
Williams also tweeted to fans to say she'd already begun working on demo recordings for the band's new album, the follow up to 2009's Brand New Eyes.