Angry Birds launch for Sony's PlayStation 3 and PSP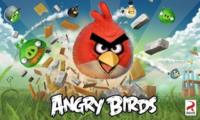 Sony has announced that Angry Birds is going to be released on its PlayStation 3 and PSP consoles.
The game was originally developed for smart phones and proved a huge success with iPhone and Android users.
Since being released in late 2009 it's been downloaded nearly 40 million times.
But with the Japanese entertainment giant now firmly on board developers Rovio have high hopes about bringing the game to a new audience.
Released on January 5th it will be available to download for £2.49.
That's nearly £2 more than the iPhone app even though it will have fewer levels.
'Phenomenal success'
It was originally announced in November 2010 that Rovio had plans to make the switch from mobile to console gaming.
But this is the first time there have been specific launch details from a manufacturer.
The puzzle game features a variety of birds, all with different skills, trying to rescue their eggs from evil pigs.
Using a slingshot the birds are catapulted at different structures the pigs are hiding in.
A spokesperson for for Sony said: "We're really excited that Angry Birds is coming to the PlayStation platform.
"It's been a phenomenal success and we're looking forward to continuing that with its release on PS3 and PSP".
Peter Vesterbacka, Chief Executive of Rovio, says there are also plans for an Angry Birds 2.
But he was staying fairly tight lipped about the details when he spoke to Newsbeat in November, only saying that while it would feature the same characters it won't be a sequel or a prequel but a different type of game altogether.
"Let's say that you will see a lot more of the pigs," he revealed.
"The pigs will be a lot more active than just being slingshotted at by birds."