Cumbria earthquake 'shook homes'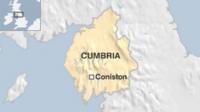 A resident who experienced a small earthquake in Cumbria, has told Newsbeat how she felt the "floor vibrating".
Lucy Moore, 18, from Carlisle, Cumbria was watching television when the earthquake measuring 3.6 on the Richter scale occurred at around 2300 (21 December).
"There was a rumbling. It was as if the floor was vibrating," she said.
Moore that the tremor was "nothing really major but noticeable."
'Went online'
The 18-year-old described how she immediately logged on to Facebook to see if her friends had also felt the earthquake.
"My news feed was just full of people saying, 'Oh my god, I just had an earthquake. Did anyone else's house shake?'
"We got loads of texts through saying, 'Did your house just shake? Mine just did'."
It was felt in locations across Cumbria and in Lancashire, south-west Scotland, parts of Yorkshire, Northumberland and the Isle of Man.
Police say there are no reports of injuries or damage so far.
She described how the movement meant a Christmas card fell from her living room wall, and that there was a "vibration in the floorboard".
She said: "It was one of those things where you weren't quite sure what was going on, you didn't immediately think 'Earthquake'. I've got to be honest - it wasn't that massive!"