Ne-Yo explains 'poorest selling album'
22 December 2010

From the section

Music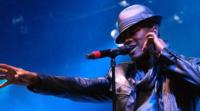 US R&B star Ne-Yo says he didn't "pay attention to certain elements" which led to the lower sales of his fourth album Libra Scale.
He said the project "lost focus," adding, "the songs were not as good as my other songs on previous albums."
Released in November Ne-Yo's admitted the album is his "poorest selling album to date."
However, the album did contain UK number one single Beautiful Monster.
Ne-Yo announces UK tour for 2011
The singer, who has written songs for Beyonce, Rihanna and Leona Lewis in the past, said: "It didn't do terrible, but I felt like it's because I put so much into it.
"It's just there was so much going on in regards to this album. Writing the script, making sure it was good, shooting videos and being too hands on with the director, the artwork and everything.
"I just wasn't paying attention to certain elements in making an album that I normally would. My fans deserve my best."
However, he said he's already working on material for his forthcoming fifth album.
"I'm already working on my next album. I took two years off in between Year Of The Gentlemen and Libra Scale.
"I'm just going to get back to the basics and do what I do. My fifth album needs to be about the songs, I don't have a theme as such yet, it will be what life is, the black white and grey - what it is to be alive - that's what this album is going to represent."
The singer kicks off a UK arena tour in Glasgow on 22 February 2011.