Charities call for routine HIV tests for under-25s
22 December 2010

From the section

Health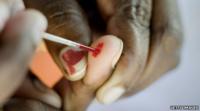 Under-25s should get routine screenings for HIV when in hospital or visiting their GP, say sexual health charities.
New figures show 13,000 people in that age group are infected with the virus in the UK.
Leading sexual health charities like BASSH and NAM Aidsmap have told Newsbeat they want routine HIV tests carried out no matter a person's race, gender, sexuality or postcode.
It's hoped it would help get more people diagnosed earlier.
At the moment only those considered most at risk like sexually active gay men, black Africans living in the UK or drug addicts who share needles, are screened routinely.
Aaron, 25, lives in Birmingham, is happily married with two kids and is HIV positive.
He only found out after he started to feel run down in September 2009.
"I can always remember the day I got diagnosed - the ninth of the ninth '09.
"It started off thinking that I had swine flu and they gave me the Tamiflu tablets."
Aaron had a sore throat and a fever and was showing all the symptoms of HIV but didn't know it.
"It didn't actually come across the doctor's mind to put me in for an HIV test or anything else like that.
"It was only when I started getting a rash below that I was quite concerned and I didn't want my Mrs to find out."
Stereotypes
HIV breaks down the immune system and has no cure - left untreated it can turn into AIDS.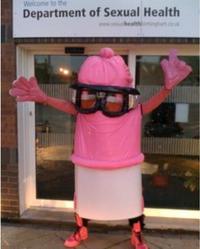 One in four people with HIV in the UK don't know they have the virus.
If the plan was to go ahead, under-25s would be asked to take a test during any GP visit or hospital treatment.
Dr Steve Taylor is leading consultant at Birmingham's Heartlands HIV Service and media spokesman for BASHH (British Association for Sexual Health and HIV).
He told Newsbeat: "One of the reasons that GPs and doctors don't often offer HIV tests is that we have a perception of what someone with HIV looks like.
"The average person on the street, like Aaron, just doesn't feature on the radar."
Aaron says he's thankful he was eventually offered a blood test.
"The doctors put it off by giving me antibiotics, but I thought this isn't right.
"So I called NHS Direct and they actually referred me to get a routine blood test, which I'm happy I did otherwise I don't know where I'd be today."
'Bit of a player'
Being a heterosexual male with a wife and kids, doctors had previously missed the opportunity to test Aaron.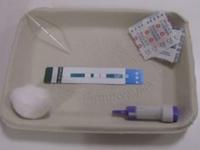 "Back in the day I used to be a bit of a player and sleep with people without protection", he admits.
In November 2009, a pilot HIV screening programme was trialled for up to a year in Brighton and Leicester - both have a large gay population - and in Lewisham in south-east London, which has a large black African population.
The Department of Health is still waiting for a full report from the Health Protection Agency on the trials before deciding what will happen in the future.
The Royal College of GPs says the idea of routine screenings has merit, but that it would need careful planning.
It told Newsbeat: "There is an argument for routine testing of patients in general practice but this would be a significant amount of work and would need to be co-ordinated and funded."
Aaron is living a normal life and takes medication on a daily basis - he's just relieved he didn't infect his wife.
"It was disturbing having to tell my wife that I have HIV.
"I was worried she'd think I was sleeping around.
"It's a miracle that she hasn't got it and I feel pleased that I haven't passed it on."