The science of snow: Why Heathrow ground to an icy halt
21 December 2010

From the section

Music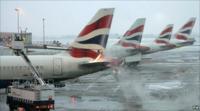 The big question bothering the thousands of people stranded at Heathrow: Why has one the world's busiest airports coped so badly with snow?
It's been three days since most of it fell but many flights are still not running.
Today alone it's expected nearly 800 flights in and out of Heathrow will be cancelled.
The airport's operators BAA say most of the problems are because they had so much snow so quickly on Saturday.
Colin Matthews, BAA's chief exec, says: "We were hit by snow which we haven't seen at Heathrow certainly in my lifetime."
He says the problem hasn't just been snow and ice on the 2 runways - but also clearing the stands where planes were parked.
"Too optimistic"
"We're really sorry for the disruption which resulted from that," he says. "We were too optimistic on Saturday about how quickly we could get the schedule re-established.
Heathrow says another reason why it's struggled more than smaller airports is that it has to deal with flights landing and taking off every few seconds.
It means the knock-on effect is much bigger when things go wrong.
The airport says it's hired 100 extra people to clear the snow and ice....they've also got a fleet of 28 ploughs, as well as snow blowers and de-icing vehicles.
It also says: "weather is different in different places - Gatwick and other airports closed several times last winter and earlier this winter, when Heathrow did not.
"The fact is that we had a huge downfall of snow on Saturday despite our preparations.
"If snow continues to fall on a runway that is being cleared, then no amount of snow ploughs can stop it landing on the ground and presenting a risk of sliding aircraft.
"The key difference at Heathrow is the gap between aircraft - it is seconds rather than minutes.
" If an airport somewhere in Siberia has a few flights an hour, then nobody notices that it's closed for snow clearing. At Heathrow, the effect is more dramatic."
BAA promise they will review their performance once things are back to normal... but that's not expected to be until after Christmas.