Snow and ice: Why can't the UK cope in wintry weather?
20 December 2010

From the section

Politics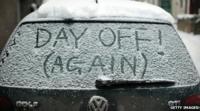 For the third winter in a row, snow and freezing conditions have brought much of the UK to a standstill.
Thousands have failed to get to work, trains have been cancelled, and airports across the country have either been closed or are running reduced services.
Kieran, on Newsbeat's Facebook page, doesn't understand it.
He says: "I could name a few places that have snow all year round, yet they just get on with it."
So, why can't we do better in snow? After all, countries like Canada and Norway regularly face far more severe winters than we do?
The short answer is that while winters are more severe in those places, they're also more consistent.
Heated pavements
The government in Finland, for example, is able to tell people they have to fit special winter tyres from December to March because they know it's likely to stay bad for the whole of that time.
In Canada, they invest millions in enormous ploughs and heavy snow-clearing gear, safe in the knowledge it will get used regularly.
In Norway, they even have heated pavements to keep them free of ice.
But in recent memory in the UK, we have gone several years in a row without heavy snow.
Now though, after a run of 3 harsh winters, the government is asking scientists if weather patterns are changing, and if they should be better prepared for greater difficulties in future.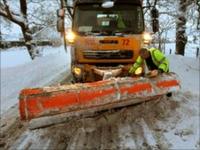 Extreme weather "early"
Bosses at Gatwick say they're spending millions doubling their fleet of snow clearing vehicles.
The government's also been criticised for not living up to a promise Labour made after last winter's chaos to stock up on extra grit for the roads.
But stockpiles of salt cost taxpayers' money - and they ideally need to be stored somewhere dry.
Most local authorities are keeping more in reserve than they used to - but there will always be fears about over-compensating.
The same is true for gritting lorries or snow ploughs - each one bought by local councils diverts money away from education budgets or filling potholes.
The question will always be the same - is it worth putting expensive new measures in place when there's no guarantee of future heavy snow?
Your snow stories
Laura and Becky
"We officially hate the snow. We spent 7 hours in a car and only went 6 miles. Last night we stayed in a hotel with no heating near Gatwick airport so we could get to our flight this morning. It was cancelled. Goodbye christmas in Florida."
Beth
"My dad has been in Gran Canaria for the week. Now he can't get home. I'm worried about not being with him for Christmas."
Dale
"Went down to go see Enter Shikari in Hatfield from Scarborough, and what should have been 3 trains there and 3 trains back ended up being a 13 train and 1 coach nightmare. We were incredibly lucky to get home. Shikari were amazing though, so... it was worth it!"
Jack
"I'm a postman and it's the busiest time of the year. Everyone is relying on us to get their parcels to them before Christmas. It's so dangerous in these conditions but I don't want to let everyone down."
Dori
"It was about -12 last night and my boiler stopped working. Can't get into work again today due to the bad road conditions. What more can i say - at least I get to enjoy my christmas tree a bit more then usual."