Stuart Baggs 'not invited back' for Apprentice final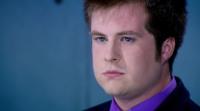 Stuart Baggs, who was fired by Alan Sugar on this week's Apprentice, says he wasn't invited back to appear in the show's final task.
Stella English and Chris Bates are battling it out to win with the two finalists helped by the contestants who've taken part in the series.
But the 21-year-old, who called himself 'Stuart Baggs, the brand', says he isn't in next week's final.
He said: "Nobody's ever given me an explanation."
Stuart Baggs was kicked off the Apprentice after Lord Sugar admitted he should have been fired before.
A discrepancy was discovered on his CV by one of four interviewers, Bordan Tkachuk, in this week's episode.
He was thrown out of the process along with Jamie Lester and Joanna Riley with Lord Sugar saying he didn't believe a word he said.
Stuart said there were no hard feelings: "One would assume that Lord Sugar was so angry with me that he didn't want me to be near him.
"But I was flattered by his words when he said I'd achieve anything that I wanted."
This week's episode was one of the most explosive boardroom showdowns ever.
Lord Sugar told Stuart Baggs that he was annoyed with himself that he allowed Stuart "to come this far in the process".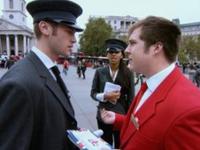 But the 21-year-old said the Amstrad boss has to be tough with the contestants.
"What you see with Lord Sugar on television is exactly what you get," he said. "When the cameras stop rolling you don't go, 'Who's going down to the Horse and Hound for a pint?'
"And no, Lord Sugar hasn't contacted me since I left the show, which is perhaps understandable.
Read: Lord Sugar - Baggs should deploy brain
"He was led to believe that I'd lied, which clearly I haven't now."
The semi-finals also saw the return of Margaret Mountford, who worked as Lord Sugar's aide on the first five series of The Apprentice.
Hate emails
Stuart Baggs was the first contestant to be fired on Wednesday's show.
He says he's now getting nasty comments on Twitter.
He said: "I went to bed one night inconspicuous and woke up the public talking point the next morning, and that is a really unusual feeling.
"You cannot possibly know what it's like to go from not being heard of to then having an influx of hundreds of journalists trying to get hold of you.
"Your friends are bombarded and people are saying all kinds of personal things about you on Twitter, as if you're not going to read them."
Stuart Baggs isn't the only fired contestant who isn't taking part in the final task.
Dan Harris, Joy Stefanicki, Laura Moore, Raleigh Addington and Sandeesh Samra don't feature in next week's episode either.
Stuart Baggs says he's now backing Chris Bates to win.
"I want Chris Bates to win. It's that simple. There's no qualifier. Chris Bates, 100% all the way."
The final of the series will be screened at 9pm on Sunday (19 December) on BBC One.