Dexter actor Michael C. Hall files for divorce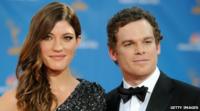 Dexter star Michael C. Hall and the actress who plays his sister in the American TV show are getting divorced.
The 39-year-old and Jennifer Carpenter, 31, have been "separated for some time" and their split was "amicable," a spokesman for the actor said.
Hall, who was previously married to actress Amy Spanger, tied the knot with his co-star on New Year's Eve 2008.
Dexter, about a Miami blood spatter analyst and serial killer, has just finished its fifth series in the US.
Michael C. Hall plays the title character who kills other murderers while Jennifer Carpenter's character, Debra, works alongside her adopted brother as a detective.
Earlier this year it was revealed that Hall was undergoing treatment for Hodgkin's lymphoma but that's now in remission.
In 2009, the actor won a Golden Globe for his role in Dexter and the show's just been nominated for three more Golden Globes for best TV series, best actor in a drama series and best supporting actress (Julia Stiles).
Michael C. Hall's also appeared in Six Feet Under.