Black Eyed Peas sued over Shut Up song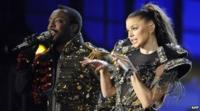 Funk legend George Clinton has filed a copyright lawsuit against Black Eyed Peas, saying the group used a sample of one of his tracks without permission.
The singer claims the band, along with UMG Recordings and Cherry Hill Music, sampled his track (Not Just) Knee Deep on a remix of their global hit Shut Up.
In the complaint Clinton says he became aware of the Peas' usage of the song in 1999 when a producer asked if he could use it.
He says he rejected the request.
In the lawsuit, filed at the US District Court in Los Angeles, Clinton is seeking damages of $150,000 (£94.512) per infringement and an injunction stopping any further distribution of the remixed song.
Clinton's original song was released in 1979.
A top three hit single in the UK, the original version of Shut Up was included on the Peas' 2003 album Elephunk.
In the past (Not Just) Knee Deep has been sampled by artists including De La Soul, Snoop Dogg and Tupac.
Black Eyed Peas have said "no comment" about the lawsuit.