X Factor's Matt Cardle defends Biffy Clyro cover
13 December 2010

From the section

Music
X Factor 2010 winner Matt Cardle has defended his debut single, a cover of Biffy Clyro's Many Of Horror, saying "it's a hugely underrated song."
The 27-year-old Colchester singer added that he hoped the Scottish rock band "aren't hating on" his selection.
When We Collide, Cardle's renamed cover was released on Sunday (12 December).
A Facebook group, with more than 35,000 fans, has been set up to encourage fans to buy the original version of the song and get it to Christmas number one.
'Great song'
However, Matt Cardle has said he is aware that his choice of track might anger some fans of the band.
"I know there are some Biffy fans that are like, 'What have you done to that song?' It's a great song. I'm hoping that I've done it justice."
He added that he welcomed the online campaign to get the Biffy Clyro's original recording to the festive top spot.
The group says it is not "about sticking it to Cowell" but "recognising the original artist for their creativity".
Matt Cardle said: "That is what it is. If that happens then great - it's a great song."
Biffy Clyro's record company said there "no official comment" from the band.
In 2009, a similar online campaign saw Rage Against The Machine beat Joe McElderry to the festive top spot.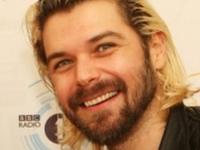 This year's Christmas number one will be confirmed on Sunday 19 December during the official chart show on BBC Radio 1.
Regarding the choice of track as his debut single Matt Cardle said: "It's not your average X Factor song.
"To have Many Of Horror by Biffy Clyro, which I think is a hugely underrated song, was amazing."
He added that the change of title was down to the programme saying: "That was the X Factor thing - you couldn't escape it completely. They've left their mark."
He faces competition from a number of other tracks vying for Christmas number one including Cage Against The Machine's 4'33 Of Silence, Coldplay's Christmas Lights and Surfin' Bird by Trashmen.
'Work starts'
Matt Cardle claimed 44% of the public vote in the X Factor's live final to beat Liverpudlian Rebecca Ferguson into second, One Direction into third and Cher Lloyd into fourth.
"I'm very aware that the real work starts now," said Cardle. "Winning it is just the beginning.
"You get so much attention and so much hype that if you don't pick it up and keep it going then you're in trouble. I'm just going to work my butt off."
He also joked about his duet with Rihanna during Saturday's live episode.
"I thought she was going to eat me alive," he said. "She's probably five years my junior and she made me look like a little boy up there."