Gorillaz are to release a free album on Christmas Day
10 December 2010

From the section

Music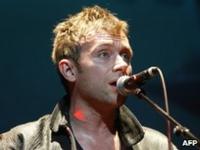 Gorillaz are to release a new album free on their website on Christmas Day.
Damon Albarn has told Australia's Perth Now newspaper that fans will be able to download it for nothing from their online advent calendar.
A video of one of the new songs will be released on Christmas Eve, which will also cost nothing.
The album, which hasn't been given a title yet, was recorded on Damon Albarn's iPad during Gorillaz recent tour of America.
Gorillaz co-creator Jamie Hewlett said: "On Christmas Eve a video for one of the new songs from the iPad album will be released.
"Then, on Christmas Day fans get the whole album downloaded to their computer for free as a gift."
iPad album
Gorillaz released their third studio album, Plastic Beach, earlier this year.
They've been touring the world to promote the record which included headlining the Friday night at Glastonbury after stepping in for U2.
Damon Albarn told Perth Now that he wanted to create the world's first iPad album.
He said: "I wanted to make sure that it came out at the end of the tour because I don't want anyone to think I'd tampered with it.
"I literally made it on the road in America over a month.
"I didn't write it before, I didn't prepare it. I just did it day by day as a kind of diary of my experience in America.
"If I left it until the New Year to release it then the cynics out there would say 'Oh well, it's been tampered with', but if I put it out now they'd know that I haven't done anything because I've been on tour ever since."
Gorillaz finish their world tour in New Zealand on 21 December.
Damon Albarn's former band Blur reformed for a series of concerts in 2009, including another headline set at Glastonbury.