How much will university cost after tuition fee vote?
10 December 2010

From the section

Politics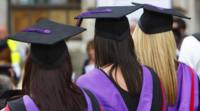 MPs have voted in favour of raising the top level of tuition fees in England despite widespread protests across the country against the plan.
Universities will now be able to charge students up to £6,000 per year and £9,000 in exceptional circumstances.
It means the average student on a three-year course paying £6,000 will leave university with debts of around £30,000.
The rules are different in Wales, Scotland and Northern Ireland.
How much will it now cost to go to university?
Before this week's vote in the House of Commons, universities could charge up to a maximum of £3,290 per year.
That's now been raised to a maximum of £6,000 but they'll be able to charge up to £9,000 in exceptional circumstances.
If universities want to charge between £6,000-9,000 they'll have to offer bursaries, summer schools and outreach programmes to encourage students from poorer backgrounds to apply for places.
There'll be fines of up to £500,000 for universities who don't do that.
The new charges will apply from September 2012.
Students deferring courses in 2011 will have to pay the increase.
Is there still financial help for students?
Maintenance grants to help with the costs of things like food and accommodation remain.
They will rise from £2,906 to £3,250 for students from households earning less than £25,000.
The cut-off point for partial grants falls from £50,000 to £42,000.
There are also plans to help poorer pupils (those who were eligible for school meals) by paying up to two years of tuition fees.
When do I start paying back the fees after I leave university?
Graduates in England will start paying back their tuition fees when they earn more than £21,000 a year.
For every pound earned above £21,000 they'll have to pay any loan back at a rate of 9p a year.
It means someone on £25,000 pays back £360 a year.
Graduates on more than £21,000 a year will pay no interest on the loans with those earning more than £41,000 paying 3%.
Any debt remaining 30 years after graduation will be wiped out.
What's the situation in Wales, Scotland and Northern Ireland?
At the moment Scottish students don't pay tuition fees although that may change in the future.
The Welsh Assembly says it'll follow England's decision but will pay the difference for Welsh students studying at English universities.
The current rates (maximum £3,290 per year) remain the same in Northern Ireland but that's also under review.