New medical students could 'face £70k debt'
10 December 2010

From the section

Health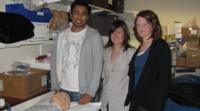 Students from lower income families will be put off from applying for medical courses as a result of higher tuition fees, the doctors' union says.
The British Medical Association (BMA) is worried universities in England will charge the full £9,000 a year MPs have voted in favour of.
As medical degrees are five years long, it says the plans could see new doctors graduating with debts of £70,000 each.
The government said students will pay nothing up front.
On top of that, there will be help for those from the poorest backgrounds.
A BMA survey of trainee doctors in England and Northern Ireland found they expect to qualify £37,000 in debt under the current system.
The union said medical students not only spend longer studying, but find it difficult to take part-time jobs because of course hours and longer term times.
Karin Purshouse, chair of the BMA's Medical Students Committee, said: "The country could be left with a situation where in the future many gifted young people will be priced out of becoming doctors simply because they do not have the funds."
Anna Sumpner who is studying medicine at Sheffield University, said higher fees would have made her think twice about taking the course in the first place.
The 22-year-old, who is the first in her family to go to university, said: "When I decided to go to medical school I knew I was going to get myself in a lot of debt. But £70,000 would have been such a daunting prospect, like a mortgage before you have even started out in life."
"I would definitely have thought about other health professions like nursing or physiotherapy."
'Zero up front'
But the government said there is no concrete evidence the proposals will deter people from becoming doctors.
It said no student will need to repay their tuition fees and other maintenance loans until they earn £21,000, the starting salary for a junior doctor.
A scholarship scheme will mean students with family members on income support or jobseekers' allowance will be able to get their fees paid for up to two years.
The BMA is now urging the government to look at the idea of 'forgivable loans'.
The idea is that new doctors would have part of their student loan written off for every year of service that they give to the NHS.