35 fans injured at One Direction X Factor gig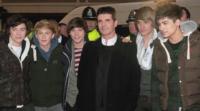 Thirty-five people have been injured after braving freezing conditions to see X Factor finalists One Direction in the West Midlands.
Nearly 4,000 fans attended the short open air gig in Wolverhampton, with some arriving hours before it started.
Most of the injuries were caused by "the effects of the cold and overexcitement", a spokesman for ambulance services said.
"The first casualty was found at 1645 GMT with a head injury," he said.
"After treatment she was discharged at the scene."
Other fans hadn't eaten or drunk all day, were hyperventilating, or felt faint, and were treated and discharged.
Twenty-eight people were also lifted over the barriers after a surge when One Direction took to the stage, with eight assessed by ambulance staff before being allowed back into the crowd.