Miles Kane: New album was 'emotional'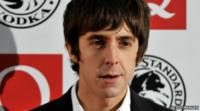 Former Rascals frontman Miles Kane says his new 'solo' project is the most challenging and "emotional" of his musical career.
He started writing after the break-up of his old band and is now glad to be back stronger and a little bit wiser.
"I had a bit of a comedown", he admits. "So it took a while to get back into the flow... It's been a complete journey."
After help from Super Furry Animals' Gruff Rhys and working on tracks in San Francisco, Kane's released debut track Inhaler and has also done a few low-key gigs.
"They've only been a few hundred capacity", he explains. "But the kids seem to be having it.
"It's hard when you're playing a set and no-one has heard any of these songs. I'm just glad people are there and are digging it."
He says the singalong-friendly rock of Inhaler is repeated on some of the album's other tunes, which he proudly describes as "sounding huge".
"It's all very catchy, but there's all sorts on there. The next single, Come Closer, is a sort of sexy, quite T-Rex song.
"It's a real red-lit, midnight vibe."
Puppets 'on hold'
Ex-Oasis man Noel Gallagher has also lent his harmonies to "boost" one of the tracks on the album.
Kane says it worked out well as he had recently played guitar on one of Noel's new solo tunes.
As for the 24-year-old's other musical project - The Last Shadow Puppets - nothing's set in stone about when they'll record again.
But the three-piece (which includes Arctic Monkeys' Alex Turner) are likely to re-form at some point.
"We'll do another one", Kane confirms.
"He [Alex Turner] is doing 'Monkey 4' and I'm having this.
"When the time is right we'll write some more tunes."
Miles Kane's album is due for release in early 2011 and he is supporting The Courteeners on tour.