Professor Green eyes collaborations for new album
1 December 2010

From the section

Music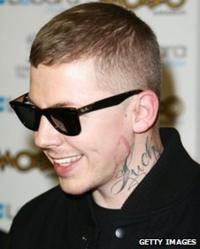 Professor Green has revealed he plans to work on new material with Chase & Status, Mark Ronson and Travie McCoy.
The London rapper has January and February 2011 put aside to work on the follow-up to his debut album Alive Till I'm Dead.
Speaking to Newsbeat, Green said: "I've been talking to Chase & Status - we're going to get into the studio and see what the vibe is like."
As for Mark Ronson: "We're going to get in the studio and do a few bits."
New collaborations
It's been a successful year for the London artist, having enjoyed hits with I Need You Tonight and Just Be Good To Green - a collaboration with Lily Allen.
After starting work on fresh tracks early in the new year he will play gigs in Australia before heading to the US.
In Miami, he intends to write new music with Billionaire singer Travie McCoy.
"I'm out in Miami in March, and that's where he's from so we're going to get in then," said Green. "He's got a studio in his house, so that'll be cool.
"Obviously, now everyone wants to throw me beats because of the success I've had but I don't think necessarily I need to branch out too far."
However, Pro admits he has his new material all planned out but won't lift the lid.
"I'm not going to give anything away," he said. "The last album laid out a lot of different paths.
"The next album is going to be me taking one of those paths instead of diversifying as much as I did on the first one."
But he will test out new material on his forthcoming UK headline tour in December.
"We're going to perform some tracks which might end up on the new album," he said. "Although nerve-wracking, it's a great way to get out and test the music.
"If it's instant, and it instantly gets people, you know you're on a winner."