White Lies to 'bring guitar back'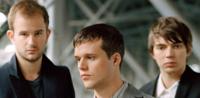 One look at the official UK albums chart tells its own story.
There are no British guitar bands in the top 20. New kids on the block The Beatles have two albums in top 40, and, well, that's about it.
White Lies, the west London trio who scored a number one album with their 2009 debut To Lose My Life, are taking it upon themselves to rectify the situation.
"People are ready for a band like White Lies after a year and a half where the majority of the music played on the radio was individual girls," says bass player Charles Cave.
"Singer-songwriters - all of them great in their own way - but there weren't many bands seeing the light of day in the mainstream.
"There will be a few people out there ready for another guitar band and more guitar music. Everything has a lifespan."
Second album
The pop-rockers' primary battering ram for restoring order is new single Bigger Than Us, the first taken from their forthcoming second album Rituals.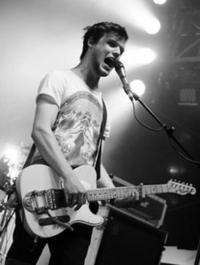 "It's got a pretty big hook in the chorus - that's not to be sniffed at," adds Cave. "That's an amazing achievement for us to be honest.
"There were a few on the album that as soon as we started writing them were quite obviously big songs," boasts lead singer and guitarist Harry McVeigh.
If this sounds a little unlike the band which sulked, rather than strode, into stardom two years ago - that's because it is.
By their own admission the biggest difference between the band of then, and the band of now, is "confidence".
Back then they dressed in black as if scared of their own shadows, mumbled in interviews about "mortality" and generally seemed nervy.
"The first one [album], lyrically and musically was full of doubt," admits Cave. "It just sounded worried.
"With this one we were just excited. It was an absolute luxury. It was a treat and I think you can hear that. You can hear that we're very pleased with ourselves."
'Better prepared'
They appear to be treating their re-ignition not just as a return, but almost as a last chance. They're wilfully taking a step up in size and sound.
"We were much better prepared and really ready to deliver something ambitious, confident and big," explains McVeigh.
Fresh from touring solidly for 18 months off the back of their debut the threesome took a short break before heading straight back into the studio.
"We saved ourselves from making a few rash decisions and mistakes," says Cave, talking about their new influences.
To the average listener the influences seem to be big stadium-swallowing rock, but also the introduction of some electronics.
It's a step towards the bombastic rock of a band like Muse, who they joined on tour briefly at the end of summer 2010.
"They're one of the best live bands on the planet," says Cave, recalling a meeting with Muse's drummer Dominic Howard.
"He had some very good advice about how we're going to melt some faces this time."
White Lies' second album Rituals is released on 17 January.