Kasabian and Chemical Brothers to headline RockNess
26 November 2010

From the section

Music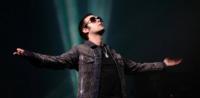 Kasabian and the Chemical Brothers have been confirmed as headliners for the RockNess festival in 2011.
The event, which takes place in the Highlands near Inverness, won line-up of the year at the 2010 UK Festival Awards.
Festival director Jim King said: "We really wanted a big rock band and in Kasabian we have the biggest rock band in the UK today."
Kasabian recently announced they'd also be headlining Isle of Wight festival.
Fatboy Slim and The Strokes were two of the big names that played at this year's RockNess bash.
Tom Meighan, Kasabian's frontman, told Newsbeat he was looking forward to their appearance.
"It's like booking Disneyland, isn't it? I can see it, it's in front of me but I've got to wait.
"It's wonderful. You're dangling the carrot in front of me. To be headlining any kind of festival is an amazing achievement."
The Chemical Brothers' reliable mix of electro anthems and beats is also likely to pull in a big crowd.
It will be their first performance in Scotland since 2006, with Ed and Tom calling the event one of their "favourite festivals".
Paolo Nutini's also been confirmed to headline the festival's Sunday night (12 June).
He said: "I am buzzing at the prospect. I don't know what to expect but everyone I know has come back with loads of stories to tell.
"I hope I will be the same."
Rockness takes place from 10-12 June 2011 and tickets go on sale at 9am on Friday 26 November.